Mardi Himal Trek:

Overview:
Duration: 5 Days
Starting/Ending Point: Pokhara
Grade: Moderate.
High Elevation: 4500 m (Mardi Base Camp)
Accommodation: Teahouse/Guest House.
Duration depends upon your side trips and the time you take to hike up.
Things to carry/remember:
Warm clothes, trekking boots.
First-aid kits.
Trekking maps, walking sticks, flash lights.
Light backpacks (if possible) with camelbak or water bottle or hot water flask.
Drink plenty of fluids. Keep yourself well hydrated.
Energy bars, cookies and dry fruits.
Camera with extra battery.
Careful during ascending; might suffer from high altitude sickness.
It is better to book your hotel before reaching destination as one might face trouble during booking on arrival on a peak season.
Guide (optional).
Trip Route:
Pokhara – Dhampus – Pothana - Pitam Deurali - Forest Camp - Low camp - High camp - Upper view point - High Camp – Low Camp - Siding – Pokhara.
Alternate Route:
Pokhara – Phedi – Pothana - Pitam Deurali - Forest Camp - Low camp - High camp - Upper view point - High Camp – Low Camp - Siding – Pokhara.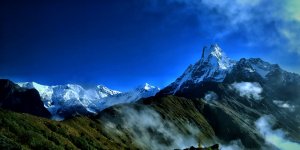 Day 01: Pokhara to Dhampus (1650 m) to Pothana (1950 m) to Pitam Deurali (2100 m) to Forest Camp (2500 m):
Well, monsoon was supposed to be over few days ago, but somehow monsoon plans to stay over here in Nepal. September, October was a best season to trek here in Nepal. So, we decided to start our trek at the end of September. It was raining on and off here in Pokhara. We assumed that it will rain over at the Mardi Himal too. We talked to few people who just returned back from the Mardi Himal trek, the day before. They said it was and is raining when they were returning from the trip. They didn't get a view of Mt. Fishtail from the viewpoint. With few disappointments, we started our journey to Mardi Himal. Early morning at five, we packed our bag packs and hired a cab to reach Dhampus (1650 m). Since it was raining, the road was quite muddy and slippery. It took us about 2.5 hours to reach Dhampus. Our plan was to have our breakfast there. So until the breakfast was being prepared, we took a small walk around the area. There was a museum. We had a little tour around the small museum. After breakfast, we started our trek. Our plan is to reach Forest camp today. But as soon as we started to walk, it started raining. We waited few minutes to see if rain will stop, but to no avail, it didn't seem as the rain will stop. However, there was a little drizzle while we waited. With raincoats and ponchos, we started our hike again. The uphill trail passes through dense forest. Trail is quite easy to walk. As it was raining, there is a huge chance of leech. We were prepared for that too with salts. Trail passes through Pothana (1950 m) and Pitam Deurali (2100 m) where we stopped for lunch. It took us about 4 hours to reach Pitam Deurali from Dhampus. From Pitam Deurali, there are two trails, one takes you towards Annapurna Base Camp, and other takes you to Mardi Himal. So it was like a meeting point for two trails. After lunch, we started our trek again to reach Forest Camp. As it was drizzling, the trail was slippery and muddy, we had to walk carefully in order to avoid any slip injuries. Trail is easy with slight uphill upto Forest Camp (2500 m). There are few lodges to stay in. We reached our destination at about 5. Checked in at our room and had our dinner and went to get a good sleep.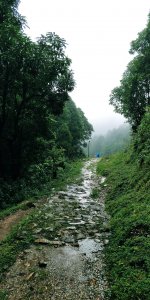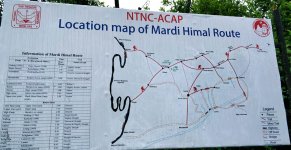 Day 02: Forest Camp (2500 m) to Low Camp (2990 m) to Badal Danda (3210 m) to High Camp (3550 m):
After breakfast, we started our trek. Trail is uphill and passes through different varieties of vegetation in the forest. Mostly the trail is uphill walk. It was not raining, but the trail was slippery because of yesterday's rain. Our plan is to have lunch at Badal Danda and overnight stay at the High Camp. After few hours (approximately 2.5 hours) of walk from Forest Camp, we reached Low Camp. There are some newly opened teahouses. We rested there for a while and had some tea to get some energy. After tea, we again started our trek to reach Badal Danda. Trail is mostly uphill. We started to notice chance in landscape and vegetation as we ascent. Dense forests are slowly disappearing and there are green grasses and small shrubs on the way. It is the indication that we are now walking now above 3000 m altitude. There are few teahouses on the way. Due to the rain, we couldn't get the view of the mountains in distance. There were fogs almost every time. In about 2 hours, we reached Badal Danda. We ordered our lunch here and rested here for a while. There were few trekkers on that lodge who were also there to have lunch. We had a little chit chat with them too while we were waiting for our lunch. After lunch, we again continued our trek. It was raining little, but as we continued our walk, rain stopped. Just few minutes to reach High Camp, it started to rain again, but we managed to check in at the hotel right in time to get rest. It took us about 5 hours to reach there. We ordered tea to keep our self warm. As there was firewood in the dining, the room itself was warm. We talked with the manager there, and asked how the weather was. He replied back that the weather is not so good and it was raining for the past two weeks. So the chance of getting the view of Mt. Fishtail was less. We didn't lose our hope and we expected the weather to get clear. We were enjoying in the dining playing cards and talking about the trek. Suddenly, we saw a glimpse of Mt. Macchapuchre. We all went outside to get a view. Clicked some pictures before the weather worsens again. As expected, view got obstructed by the clouds and fogs. We went back to dining in hope to get a good view in the morning.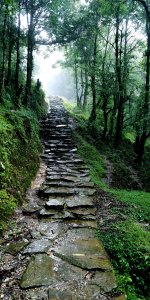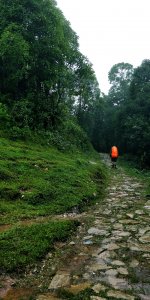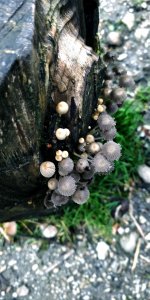 Day 03: High Camp (3550 m) to View Point (4450 m). Back to High Camp (3550 m) Low Camp (2990 m) to Siding (1700 m):
In order to get a morning view, we have to get up early. So, we woke up around 4, had some porridge and tea. Prepared our flashlights and warm water and headed to view point. We saw a row of flash lights way ahead than us. With the expectation of getting a clear view, we continued to walk towards the view point. Midway to the viewpoint, there were group of people grazing there sheep and yak. We checked in to see if there is anybody. Fortunately, there was one person. We asked if we could get some yak milk to drink. He didn't disappoint us, we got a fresh yak milk. The taste of the milk was so good, that felt like we got an energy and all the tiredness was gone. After a fresh cup of milk, we continued to walk. The sun was already up, and the weather seems to get clear. After about 2 hours of walk, we were about to reach the viewpoint. Just before reaching there, we got a glimpse of mighty Mt. Macchapuchre. The excitement level was high as we get close to the viewpoint. The view was playing hide and seek with us. Fortunate enough, we got the view and we spent there about an hour viewing Annapurna south, Himchuli, Macchapuchre, and Mardi Himal. Everybody up there was equally enjoying the view on their own way. They were enjoying and capturing the moment. After spending an hour there at the view point, we returned back to reach High Camp. There is an option to reach the base camp (4500 m) too. In about half an hour, we reached High Camp. We packed our bags, and headed down to reach Low camp. The trail now is mostly downhill. In about 2.5 hours, we reached Low camp. We had our lunch there and again trekked further down to reach Siding. Tiring downhill trail to Siding is almost 5 hours. Upon reaching Siding, we checked in at hotel and had our dinner.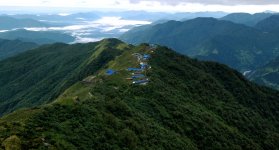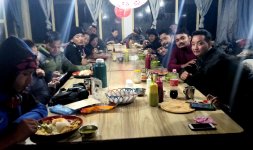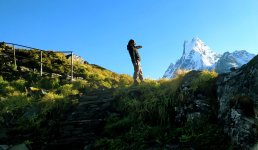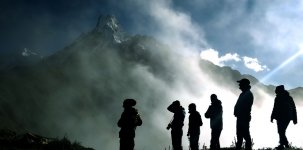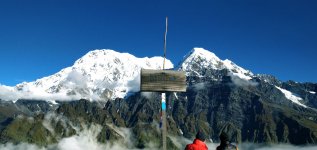 Day 04: Siding to Pokhara:
Our trek concluded previous day. So we will ride on a jeep today to reach Pokhara. The road is rocky and off road. Expect some bumpy ride while returning. The waterfalls and the Mardi Khola will accompany this ride. In about 3 hours, we reached Pokhara, concluding our Mardi trek.
Other option to return is you can take the same route to Pothana and then trek to Australian camp and then take a jeep or bus Kande to Pokhara.
I hope you enjoyed my blog and I hope you will equally enjoy this Mardi Himal trek. If you have any queries and if you wish to plan the Mardi Himal trek, you can mail me at:
santos.mhrjn@gmail.com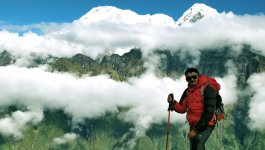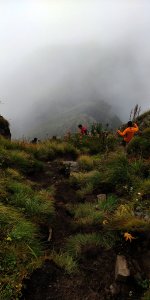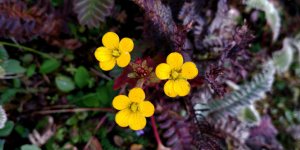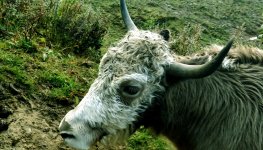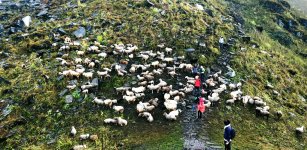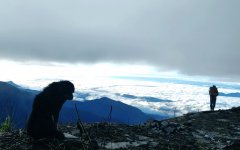 -End of the Page-